Village Hotels
Operating at 28 properties across the UK, Village Hotels is a long-established hotel and leisure operator. Responsible for a large number of staff, Village must ensure they deliver the best possible service. Whether it's ensuring staff are qualified and receiving the necessary training, which in turn ensures the safety of employees and customers. By working in collaboration with STA, Village have been able to provide a service of the highest standard.

With 28 of their UK sites partnered with their new 'Going the Extra Inch' ethos, Village have been able to announce themselves as one of the best customer service providers in the hotel industry. Customer service is an area of the business that Village pride themselves on, implementing VIPs (Very Informed Persons) at each of their sites. These VIPs are always on the lookout for ways in which they can their service on a site-by-site basis, or as a whole organisation.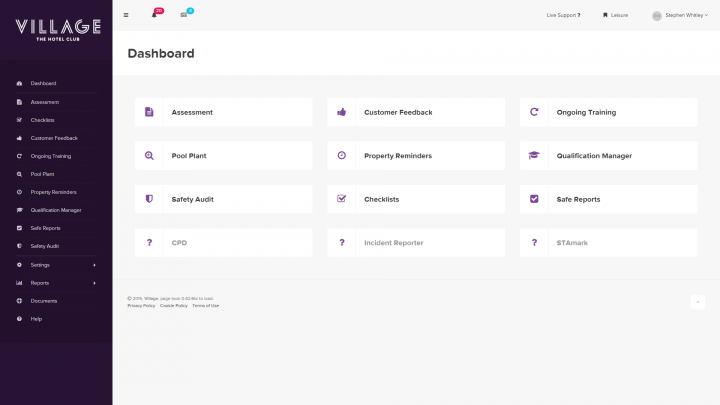 With a company ethos that thrives on providing excellent customer service, Village are always looking to improve their operations. Stephen Whitley, Senior Leisure Club Manager, discussed this with STA:
When we first started discussions with STA, they put this concept on the table of what we could do with i-tus, which really gave us a bit of food for thought about the way we manage our business and, more importantly, having some sort of consistency across the group, being able to get an overview of what was happening in any one of 25 properties at the time, which we didn't have previously.
From the initial discussions, Village were able to highlight areas of the business that needed improvement:
It opened our eyes in the management team about potential problems across the entire estate where our swimming pools could be operating outside the normal operating procedure, which obviously raised a few concerns, certainly regarding due diligence, so that's where i-tus has really helped us.
As Village and STA began to grow together, Village were able to gain more control across their business, allowing them to focus on their services aims as a whole. Stephen expressed:
It was even more so that we had that control, and it's not so much Big Brother – you know, watching every move – but it is about our sort of image, as far as the company is concerned, to make sure that we understand what's happening in our business at any time during the day.
Improving Operations
"We're more than happy, it actually suits our business and it has put a greater focus on the due diligence and safety of the operation."
With leisure operations having an always-on mentality, it was imperative that any changes happened seamlessly – all the more important with Village having a large network of sites. By working with STA, i-tus was released in different transitional stages, allowing changes to be monitored carefully and without difficulty.
Stephen went on to explain how i-tus was able to fit into their management structure, adapting to their specific needs:
Our management structure is very flat, so to manage what was 25 properties remotely is quite difficult. What i-tus has allowed us to do is to have an overview of what our properties are doing, up to the minute, and to address any concerns that they might have with the club managers directly; after receiving a red alert or any consecutive amber warnings, so that was an added appeal to us.
This meant that Village were able to keep on top of any potential issues before they could escalate into serious problems. It also assists the management team by sending important reminders as they come up, so they could stay at the heart of the business.
Village is dedicated to constantly developing their brand and with i-tus, they were able to monitor and plan their expansion with greater ease. Stephen expressed the importance of i-tus and its fundamental role in their development:
To think about developing the brand and developing the products – we are a very successful business in the actual products we offer, very much so, certainly with three new openings [in 2015], one in Scotland, and we plan to open another five in the next eighteen months. The business is developing and we see i-tus as an integral part of that business, certainly as far as the management of our swimming pools and the training and development of team members goes.
With i-tus' vast reporting capabilities, Village have been able to see the benefits of using the cloud-based system in abundance:
Now we can remotely sit in our own office and say, "Okay, let's just talk through your water test results from the last three months", and it's in front of you. It saves on cost because we don't have to go to the site, we can do it on the phone. We've actually profited based on the data that we already had [in the system].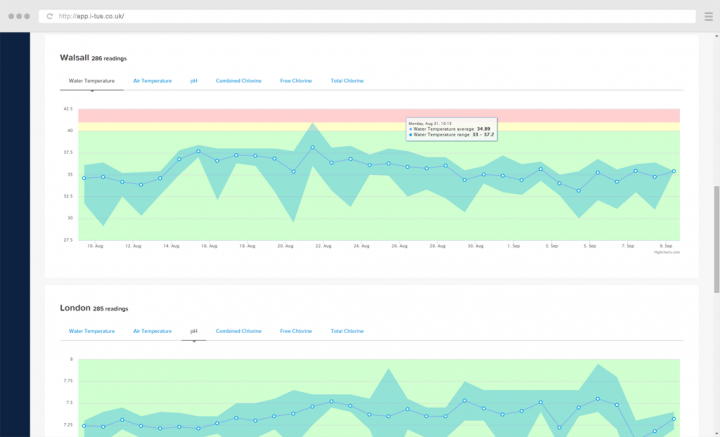 Pairing the cloud-based functionality of i-tus with Village's leisure operations is a clear winner for the hotel and leisure provider, giving rise to increased productivity and transparency for the business through fresh insights.
It's clear that Village are passionate about the service they offer their customers, which is evident in their reviews and customer service structure. By using i-tus they are able to lay the foundations upon which they could their company ethos. Stephen admits:
We're more than happy, it actually suits our business and it has put a greater focus on the due diligence and safety of the operation. That's what we wanted, and that's what we've achieved, so it can only get better as far as we're concerned.
Continued Success
i-tus has not only played a major part in the day-to-day running of Village's operations, it has applications across all levels of the business. With a national reach and locations in several high-traffic tourist destinations, it was vital that i-tus wasn't just beneficial for directors; i-tus needed to be beneficial for every member of staff, as Stephen Whitley noted:
…they could see the benefits of it, not just purely as a management tool, or for the regional team, but also as a local management tool for the local manager, hotel manager, and the ops manager too; inasmuch as, if they were in an office and they got a red alert, they could actually do something about it, rather than having to rely on someone coming and telling them there was a problem, so it's actually widened our knowledge base across the whole business.
As i-tus and Village Hotels continue to develop their partnership, it's important that changes are implemented quickly and efficiently. With the hotel & leisure industry being so demanding and with new challenges developing each day, i-tus has been able to assist Village Hotels by working together in accord.
"It brought it to the forefront and certainly as a management tool, it's invaluable for us now."
Stephen went on to describe the relationship that had formed through the collaboration of the two organisations, expressing how content Village are with i-tus moving forward.
The relationship is very much developmental, and we always saw i-tus as a development opportunity for us to adjust or modify the system to suit not just us, but the industry as a whole.

I think that the changes we requested have been implemented and rolled out to various customers, and that's making the product a lot better, a lot more user-friendly and actually making that reporting function a lot slicker. We're very pleased with the progress and we can all continue to develop the ways forward.
---
Let's see what we can do for you.
We believe in doing things the right way, which means helping you to get your business working more smoothly, efficiently and transparently, which can only happen when time and energy is being utilised fully. i-tus makes it easy for you to keep an eye on every corner of your business from one place, saving you and your staff precious time.
Talk to us and let's see what we can do to help; we'd love to hear from you and we can get your free one month trial up and running so you can see for yourself the benefits that i-tus can bring.